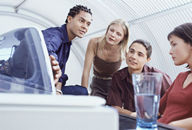 A Threat Risk Assessment (TRA) is the most important undertaking for a company looking at implementing or enhancing a security protocol for their operations. Only after a TRA has been performed professionally will senior management be able to fully identify and assign resources to the issues of concern.
After the World Trade Center attack, many companies were forced out of business because they could not meet their ongoing obligations. Files were so severely damaged or destroyed that they just could not continue. Though extreme, this case highlights the various risks that a company can face. How fast you recover and continue to maintain your client obligations will depend on the preparations in place before an incident occurs. A proactive approach versus a reactive one is far less costly in the end.
TRA concerns can include the following:
Personnel
Inventory
The building
Paper documents
Computer data and hardware
Telephone service

Computer backup systems
Internet and email security
Fire and other life safety issues
Access to parking areas
Surrounding property
Workplace violence and or harassment
After the preliminary interview, management decides which items they wish to explore and, by working with the security consultant, establish the scope of work. If life safety issues and telephone services are currently well taken care or are not placed high on the list, then they receive only a brief review. Instead, the client may be very concerned about shrinkage and workplace violence. These would then be the items that would receive the appropriate attention.
Theft of merchandise
Disgruntled employees
Breaching of the company's Internet services
Theft of computer systems, including laptops from the office, hotel room or from the car
Fire
Flood (Are the backup documents/tapes in a locker in the basement?)
Malicious acts of vandalism
Power failure
A TRA will often raise or revisit issues that may have been discussed briefly before but were never fully explored, i.e. a bomb threat or the protection of confidential personnel files.
Planning for the TRA process encompasses establishing the scope of the project, determining the appropriate methodology, setting the time frame, identifying the key partners and allocating the resources to perform the TRA.
The closing phase of the TRA process will indicate the threats, the likelihood of them occurring and list the options available along with preliminary budgets to accomplish the tasks. The recommendations are intended to improve the security posture of the organization through risk reduction and provide considerations for business recovery activities, should a threat cause actual damage.